Kuopion seudun maakuntakaava
Simple
Date (

Publication

)

2008-07-03
Identifier

FI / 1000460
GEMET - INSPIRE themes, version 1.0 (

Theme

)
Use limitation

Creative Commons Public Licence, CC by nd. (http://creativecommons.org)
Access constraints

Other restrictions
Other constraints

Kopiointi-, jakelu- ja esittämisoikeus. Tiedontuottajan nimi mainittava. Tuotteen kopiointi, jakelu ja esittäminen sallittu sellaisenaan, ei muokattuna. Ks. http://creativecommons.org
Classification

Unclassified
Denominator

100000
Metadata language

fin
Topic category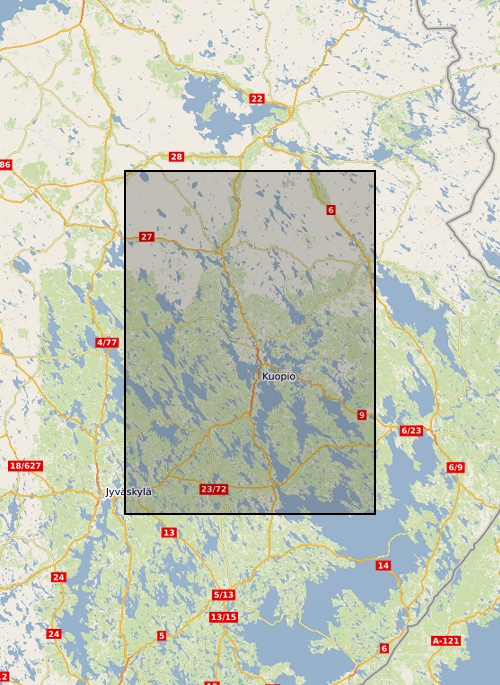 Reference system identifier

EPSG / KKJ / Finland Uniform Coordinate System (EPSG:2393) / 7.4
Distribution format
OnLine resource
Hierarchy level

Series
Conformance result
Date (

Publication

)

2010-12-08
Explanation

--- Selitys onko aineisto tietotuotemäärittelyn mukainen ----

--- Klikkaa sääntöjenmukaisuusaste, jos on määrittelyn mukainen ---
Pass

false
Statement

Kaavan laadinta alkoi v. 2001, kaavaluonnos v. 2005, kaavaehdotus v. 2006, MKV hyväksyi 23.08.2006, YM vahvisti 03.07.2008. Kaava-aineisto on pääosin kaavaselvitysten pohjalta itse tuotettu, muokattu mm. GTK:n ja Pohjois-Savon ympäristökeskuksen aineistoista (ELY-keskus). Lisätietoja lähtöaineistoista löytyy osoitteesta www.pohjois-savo.fi/ksmk.
gmd:MD_Metadata
File identifier

28c6699d-8f45-4df9-b905-3c78c0ab8b50  

XML
Metadata language

fin
Hierarchy level

Series
Hierarchy level name

Aineisto
Date stamp

2016-05-06T12:45:22
Provided by

28c6699d-8f45-4df9-b905-3c78c0ab8b50
  Access to the portal
Read here the full details and access to the data.
Associated resources
Not available